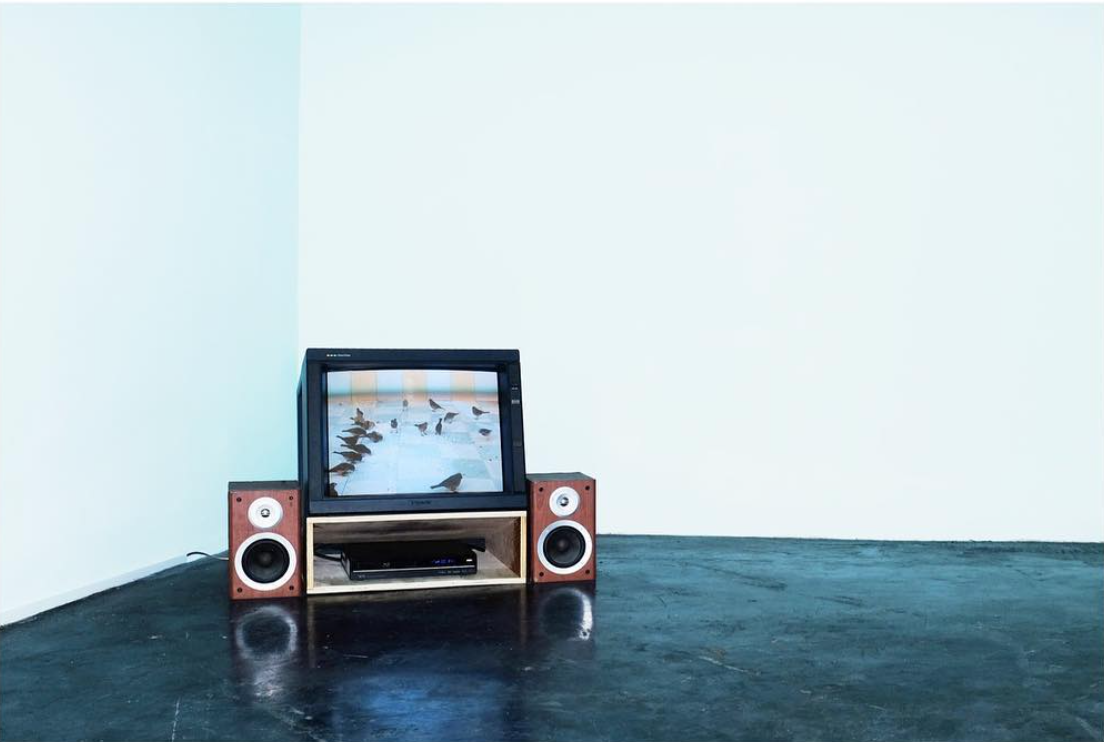 Après moi s'il en reste (Después de mi si es que algo queda -After me if there is something left )
Video Installation – 3'30" DV estero 4/3
Edition of 3 + 2 a.p. – 2017
Je me souviens d'avoir été invité à partager des repas au cours de l'été 1987 dans la montagne turque non loin du lac de Beyşehir,
près de l'entrée de Pinar Gozu, une fabuleuse résurgence que nous explorions alors. Les femmes passaient à table une fois les hommes rassasiés.
Julien Devaux observe et filme des oiseaux mangeant des graines dispersées sur un sol carrelé. La partie de go bat son plein lorsqu'un super piaf surgit, investit le damier et met en fuite le menu fretin. Dès que le malabar s'absente, la bande de crèves la faim rapplique aussi sec et picore de plus belle. Imbu de son pouvoir, le costaud répète l'opération plusieurs fois, désormais plus par jeu que par fringale.
Loi du plus fort oblige, les petits passent après les gros quand ils ne se font pas tout simplement dévorer par eux.
Cette loi serait on ne peut plus naturelle à ce qui se dit. Il se dit aussi que la nature fait bien les choses.
Michel Blancsubé
Mexico, Août 2017
"Recuerdo haber sido invitado a compartir unas comidas durante el verano de 1987 en las montañas de Turquía, por el lago Beysehir, cerca de la resurgencia de Pinar Gozu, un fabuloso rio subterráneo que en ese entonces explorábamos. Las mujeres se sentaban a la mesa una vez que los hombres ya estaban satisfechos.
Julien devaux observa y filma a pájaros comiendo granos esparcidos sobre un piso a cuadros. El juego de "go" está en su punto más álgido cuando llega un pajarraco, embiste el tablero y todos los pajaritos huyen al mismo tiempo. Cuando el forzudo se va, la bandada de muertos de hambre regresa de inmediato a comer todo lo que puede lo más rápido posible. Embriagado de su poder, el fortachón repite la operación varias veces, ya no por hambre sino por pura provocación.
Sujetos a la ley del más fuerte, los pequeños pasan después de los grandes si es que éstos no se los comen. Esta ley es tan natural como se dice. También se dice que la naturaleza hace bien las cosas."
Michel Blancsubé
Mexico, Agosto 2017
*"I recall being invited by Turkish people, a couple of times, to join them for a meal during the summer of 1987. In those days I was exploring an extraordinary subterranean river that runs inside the Pinargözü Cave in Turkey, up in the mountains near to Lake Beysehir and the karst spring of the Devre Su river. In those meals the men ate to their heart's content and only after they were finished, the women could sit at the table.
Julien Devaux observes and subsequently films some little birds that are eating bread crumbles from the floor. The tiles pattern resembles a Go board in which, the more birds arrive, the more entertaining the game gets. Suddenly, a substantially bigger bird comes into play and forces the smaller ones to fly away. Once the stronger bird has a belly full of crumbles and takes off, the starving flock of little birds lands back on the floor to feed on the leftovers as fast as they can.
Drunk in the power of his size and strengths, the big bird descends over and over, this time not out of hunger, but merely to harass the others.
Bounded to the "law of the strongest" little birds must always feed after the big ones, if they aren't the main course themselves. This law is so easily observed in Nature that we, human beings, tend to think it should be as innate to ourselves as it is to birds. "Nature's always right" is what the saying dictates, yet Nature can't be right or wrong, but we can.
Michel Blancsubé
México, August 2017